president's message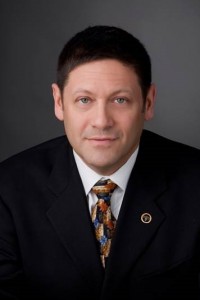 Adam Freeman's President Message:
I am honored and humbled by the trust the diplomates and imparted upon me as your president for the next year.  There are many of you who have served in this position and I can only hope to live up to your legacy.  There are so many to thank for mentoring me through my forensic career, you all know who you are as I have thanked each of you personally over the years.  I remember my first Diplomate's dinner sitting next to Dr. Weems swelling with pride, astonished that those in the room knew who I was, addressing me by my name.  I leaned over to Dr. Weems and said "I feel like I am in a room full of giants and I don't belong" He put his arm on my shoulder and reassured me that I had earned my seat at the table.
These are interesting times for the ABFO.  We do great work!  We walk away from our normal lives during times of national tragedy to identify the victims of manmade and natural disasters. We travel to faraway places, often in austere environments to give names to the nameless. We go to morgues and see things that no person should see and identify those who are unidentifiable. We do this with great pride, we do it with the utmost respect for those whom we are viewing, we often give the deceased more respect in death then they had in life.  We mentor those who demonstrate an interest in the field, we want others to succeed and become board certified. We do these things with little to no remuneration.  Personally, I am honored and humbled at the mere request to participate in the identification process.
We as an organization have gone through some disconcerting times in the past years, both in relation to bitemark analysis/comparison as well as the way we interact with each other.  Our work is too important to have interpersonal conflict impact the ABFO's functionality.  We need to always remember to be collegial in dealing with fellow diplomates as well as the scientific community at large.  We all hopefully have the same common goal, to be dispassionate scientific analysts.   Lively, honest discourse is important to our organization, but we must achieve it in the absence of rancor and vitriol.  Contempt of collegiality will make the ABFO weaker and dysfunctional, it will prevent us from progressing, and we must always be attempting to progress our discipline.
Our work in bitemarks have done much good, however there is significant wreckage in our past.  This wreckage is just as unacceptable as those who commit the horrible crimes we often see.  It terrifies me to think of being imprisoned knowing that I was innocent of what I was accused of.    I think we need to take responsibility for these miscarriages of justice our discipline has been a part of.  To those who have been wrongfully convicted, while of little consolation for the years of your life lost, I am sorry.  While apologies are important what is most important is action!  None of us want an innocent person imprisoned due to bitemark analysis, and I can only assume that those working to exonerate the innocent never wants a guilty person freed.  I would encourage all to review our individual cases. Where opinions went too far, we have an absolute duty to correct and we need to take this responsibility seriously. To those who are fearful of such refection, I remind you of what Thomas Jefferson once said, "Question with boldness even the existence of a God; because, if there be one, he must more approve of the homage of reason, than that of blind-folded fear."
The recent decision of the Texas Forensic Sciences Commission (TFSC) has brought this to the forefront.  They are not our enemy.  In fact I think that their decision will be the catalyst our organization needed to get our forensic house in order.  I cannot overstate the importance of getting our house in order. The commission in a letter to Dr. Berman and me gave us a framework for a path forward.  They stated;
The Commission seeks to work collaboratively with the leadership of the American Board of Forensic Odontology ("ABFO") as it moves forward on these recommendations. As a threshold matter, Commissioners believe the following items should be established to ensure the integrity and reliability of the forensic analysis:
Criteria for identifying when a pattern injury constitutes a human bitemark. This criteria should be expressed clearly and accompanied by empirical testing to demonstrate sufficient inter and intra-examiner reliability and validity when the criteria are applied.
Criteria for identifying when a human bitemark was made by an adult versus a child. This criteria should be expressed clearly and accompanied by empirical testing to demonstrate sufficient inter and intra-examiner reliability and validity when the criteria are applied.
Rigorous and appropriately validated proficiency testing using the above criteria.
A collaborative plan for case review including a multidisciplinary team of forensic odontologists and attorneys. (Drs. Senn and Wright have graciously offered to work on this project.)
After addressing these basic items, the Commission believes follow-up research should focus on the criteria that form the basis for the "exclude" and "cannot exclude" categories contemplated by both of the "draft" decision trees currently in circulation through the OSAC and ABFO processes. ABFO guidelines should also follow the example of other forensic disciplines by including peer/technical review of cases as well as the development of a model report that provides information to the trier of fact regarding the limitations of the forensic analysis.
The Court needs us. Victims of bitemarks need us, often being children and those who don't have a voice.  To protect this important evidence, we need to correct for the past deficiencies of bitemark analysis.  We all individually should support research in the field.  I encourage many of the talented individual diplomates to consider doing research.  I also encourage you all to participate in research projects when asked to do so.  You must treat these projects in a realistic fashion as the results are crucial to the future of our discipline. We also need to inform the legal system of the strengths and weaknesses of bitemark analysis, but I am convinced that we are up to the task.
The TFSC has identified a pathway forward for us, we now need to do the heavy lifting.  This has begun by us recognizing that individualization of a suspect based on a bitemark injury alone is not supported by our guidelines.  While we have adopted new bitemark guidelines and terminology and I am proud of these changes, I think we need to do more.  I will work to implement the following guideline changes, but encourage all of you to immediately adopt the following in your practices;
To restrict ourselves to only bitemarks of the highest evidentiary value.
To be blinded of suspect(s) when doing comparisons.
The same investigator should not document patterned injuries and take suspected biter information.
We need blinded second opinions- not just technical reviews.
We need to be vigilant about bias and do everything in our power to mitigate it.
We need bitemark proficiency testing.
We need to change the requirement that a potential ABFO certification candidate be the primary investigator in a bitemark case in order to satisfy the requirements to become certified.
We need to also enact bylaws changes that allow us to implement change in a more efficient way, while also allowing us all to participate in such change.  With current technology we can have diplomate meetings and votes electronically.  While we were formed in 1976 we no longer live in that era, and our bylaws need to evolve to allow us to be a more nimble organization.
I am proud to serve as your president.  I will make sure that all voices within the ABFO are heard.  I will make sure that information is free flowing to all of you.  As always I am available to talk or exchange ideas so, never hesitate to reach out to me.
Adam J. Freeman, DDS, D-ABFO
President
American Board of Forensic Odontology